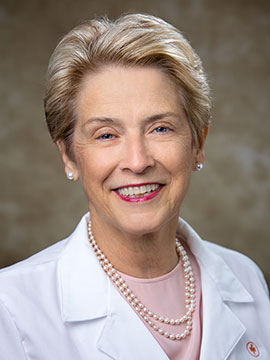 The mission of Mercer University School of Medicine is to educate Georgia students who will become well-trained, compassionate healthcare professionals in Georgia and practice in rural or medically underserved areas of this state. Our goal is to provide Georgians who live in these communities access to care delivered with skill, caring and the highest level of integrity.
I am honored to serve as the dean of the School of Medicine and lead an incredibly talented faculty who are focused on providing a superior educational experience to our students. I am especially proud of our students, who are committed to serving in their home state.
Mercer University School of Medicine graduated its first class of physicians in 1986. Since that time, Mercer doctors and other health professionals have improved access and quality of care across Georgia but particularly in areas of greatest need. Our faculty and students have demonstrated sustained dedication in their pursuit of scholarly work and community service activities that make a difference in Georgia and the world.
In addition to the M.D. program, Mercer University School of Medicine offers graduate degree programs in Preclinical Sciences, Biomedical Sciences and Family Therapy. These graduates add equally to the quality of care and access to health care across Georgia.
The full four-year M.D. program is offered in the Macon and Savannah campuses and Years 3 and 4 of the M.D. program are additionally offered at the Columbus campus. Soon we will open a four-year campus in Columbus. We offer exceptional clinical rotations through strong partnerships with regional healthcare institutions, organizations and individuals. These rotations provide opportunities to develop a broad, deep knowledge of health issues facing patients as well as the development of strong clinical skills and interdisciplinary teamwork.
Our students have the opportunity to learn in institutions such as Memorial University Medical Center/HCA, Savannah; Piedmont Columbus Regional, Columbus; St. Francis Hospital/Emory Healthcare, Columbus; Medical Center at Navicent Health, Macon; and Coliseum Medical Center/HCA in Macon. We also have a rich network of dedicated community physician preceptors throughout the state that teach our students. Through these exceptional opportunities, our students acquire a broad range of experiences and develop the skill and judgment needed to serve their patients and communities.
Mercer medical students learn using a unique patient-based, faculty-guided curriculum. As part of small-group and team-based learning experiences, students use clinical cases to learn and understand basic sciences, which form the foundation of medical practice. Early in the curriculum, students participate in rural and community-based patient care, which recurs throughout the four years. This curriculum is consistent and robust across all campuses.
I was among the first class of physicians to graduate from Mercer University School of Medicine, and since graduation, I have practiced in a small, rural county. In my opinion, there is no more meaningful, challenging or rewarding work. The opportunity to change health care in Georgia by becoming a physician or healthcare professional and serving in an area of need requires the best and brightest and those with courage, high intellect and a servant's heart. This opportunity exists at Mercer University School of Medicine. If your goal is to make a difference, I hope you will consider joining our student body.
I encourage you to explore our website to learn more about our school and its accomplished faculty. I hope, if you share our mission and vision, you will consider joining us.
Jean R. Sumner, M.D., F.A.C.P.
Dean of Mercer University School of Medicine