Primary Care Accelerated Track Program
The 2022-23 application cycle is now open!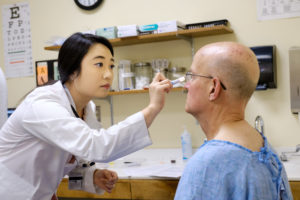 The Primary Care Accelerated Track (ACT) Program allows students interested in a career in family medicine, general internal medicine or pediatrics the opportunity to complete their medical school coursework in an accelerated three-year program of study.
The ACT Program builds upon the strengths of the Mercer University School of Medicine (MUSM) problem-based curriculum with clinical experiences and community medicine activities built into the preclinical years and reinforced through continued longitudinal experiences at the ACT site, clerkships, sub-internships, and electives.
This innovative curriculum compresses the educational objectives of the four-year MD program into 130 weeks of instructional time that culminates in a medical degree and prepares students for early entry into a traditional, primary care residency.
Eligibility
Students must be enrolled in year one at MUSM, be in good academic standing at the time of application, and have a strong desire to practice primary care in a rural area.
Scholarship Amount
The ACT scholarship covers tuition for the second and third years of medical school.
Service Commitment
Upon completion of residency, three years of continuous, full-time, primary care medical practice in a medically underserved rural area of Georgia is required. The practice must also accept Medicaid.
Application Process
The application cycle is open January 4, 2022 through February 4, 2022. The residency of choice will receive the applications and conduct interviews. MUSM will notify students of acceptance in April.
Program Tracks & Locations
The ACT Program currently offers three tracks:
Family Medicine is offered at the Savannah, Macon and Columbus campuses.
Internal Medicine is offered at the Savannah and Macon campuses.
Pediatrics is offered at the Savannah and Macon campuses.
Apply Today