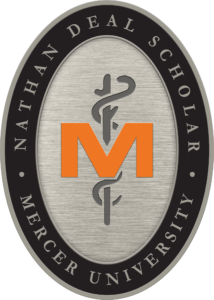 The Nathan Deal Scholars Program was established in 2017 to recognize outstanding medical students who exemplify the highest values of the medical profession and are leaders in their commitment to Mercer's mission. Upon completion of residency, Nathan Deal Scholars are committed to four years of continuous, full-time medical practice in a medically underserved rural Georgia county. In addition to financial assistance, these scholars receive leadership training to help prepare for the clinical challenges that may arise while practicing in rural Georgia.
Eligibility
Applicants must be a Georgia resident with strong ties to rural Georgia and currently enrolled or accepted for enrollment in the Mercer University School of Medicine four-year MD program. Nathan Deal Scholars are not eligible to apply for the PC-ACT program.
Scholarship Amount
Approximately seven new scholarships are awarded annually. The scholarship covers 85-100% of tuition for a maximum of four academic years.
Scholarship Renewal
Nathan Deal Scholarships will be renewed annually for those who maintain satisfactory academic progress, actively participate in Mercer's rural health research and leadership development activities, and display continued commitment to rural Georgia.
Service Commitment
Upon completion of residency, the scholar is required to reside and practice in a primary care core specialty full-time in an approved medically underserved rural Georgia county for four continuous years. Core specialties include family medicine, general internal medicine, pediatrics, obstetrics-gynecology, psychiatry, or general surgery. Fellowships are not permitted. The practice must also accept Medicaid. No credit will be granted for partial completion of the service obligation.
Selection Criteria
Nathan Deal Scholars are selected based on a variety of criteria including strong ties to rural Georgia, exceptional character, leadership qualities, community involvement, and other factors that indicate the applicant will likely continue to serve in rural Georgia once the scholarship's medical service commitment has been fulfilled.
Application Process
The application cycle opens each year in January and remains open through the end of February. Once the scholarship committee reviews all applications and qualified applicants have been interviewed, scholarships will be awarded.