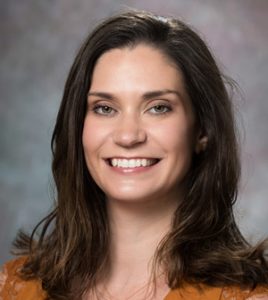 Education
BA, Psychology and Spanish, Hood College
MHS, Public Mental Health, Johns Hopkins Bloomberg School of Public Health
PhD, Public Mental Health, Johns Hopkins Bloomberg School of Public Health
Postdoctoral Fellow, Center for Mental Health Services Research, Brown School, Washington University in St. Louis
Research Interest
Dr. Roth's research focuses on the epidemiology of mental disorders in Latinx and immigrant populations, both in the US and globally. Specifically, her work in this area examines the role of acculturation and other related experiences in shaping Latinx mental health. In addition, she is investigating how neighborhoods can be places of risk and/or resilience for health and wellbeing. Recently, Dr. Roth has expanded her focus to include the health of rural populations and the opioid epidemic. Across content areas, she strives to apply advanced statistical techniques to answer complex questions, in particular the integration of psychiatric epidemiology, geospatial information systems (GIS), and latent variable methods to address contextual factors affecting mental health in minority and underserved populations.
Selected Publications
Roth, K. B., & Szlyk, H. S. (2021). Hotline Use in the United States: Results from the Collaborative Psychiatric Epidemiology Surveys. Administration and Policy in Mental Health and Mental Health Services Research, 48(3), 564–578. https://doi.org/10.1007/s10488-020-01089-0
Roth, K. B., Musci, R. J., & Eaton, W. W. (2020). Refining acculturation measures for health research: Latina/o heterogeneity in the National Latino and Asian American Study. International Journal of Methods in Psychiatric Research, 29(4), e1844. https://doi.org/10.1002/mpr.1844
Hawes, M.R., Roth, K.B., Wang, X., Stefancic, A., Weatherly, C., & Cabassa, L. J. (2020) Ideal Cardiovascular Health in Racially and Ethnically Diverse People with Serious Mental Illness. Journal of Health Care for the Poor and Underserved, 71(4), 1669-1692.
Roth, K. B., Musci, R. J., & Eaton, W. W. (2019). Heterogeneity of Latina/os' acculturative experiences in the National Latino and Asian American Study: A latent profile analysis. Annals of Epidemiology, 38, 48-56.e2. https://doi.org/10.1016/j.annepidem.2019.07.016
Schneider, K. E., Holingue, C., Roth, K. B., & Eaton, W. W. (2019). Enduring mental health in the Baltimore epidemiologic catchment area follow-up study. Social Psychiatry and Psychiatric Epidemiology, 54(8), 997–1006. https://doi.org/10.1007/s00127-019-01676-z
Szlyk, H. S., Roth, K. B., & García-Perdomo, V. (2019). Engagement With Crisis Text Line Among Subgroups of Users Who Reported Suicidality. Psychiatric Services, 71(4), 319–327. https://doi.org/10.1176/appi.ps.201900149
Newcomer, A. R., Roth, K. B., Kellam, S. G., Wang, W., Ialongo, N. S., Hart, S. R., Wagner, B. M., & Wilcox, H. C. (2016). Higher childhood peer reports of social preference mediates the impact of the good behavior game on suicide attempt. Prevention Science, 17(2), 145–156.
Eaton, W. W., Roth, K. B., Bruce, M., Cottler, L., Wu, L., Nestadt, G., Ford, D., Bienvenu, O. J., Crum, R. M., & Rebok, G. (2013). The relationship of mental and behavioral disorders to all-cause mortality in a 27-year follow-up of 4 epidemiologic catchment area samples. American Journal of Epidemiology, 178(9), 1366–1377.
Hemelt, S. W., Roth, K. B., & Eaton, W. W. (2013). Elementary school interventions: Experimental evidence on postsecondary outcomes. Educational Evaluation and Policy Analysis, 35(4), 413–436.
Roth, K. B., Borges, G., Medina-Mora, M.-E., Orozco, R., Ouéda, C., & Wilcox, H. C. (2011). Depressed mood and antisocial behavior problems as correlates for suicide-related behaviors in Mexico. Journal of Psychiatric Research, 45(5), 596–602.
Click here to see the full list of Dr. Roth's work.
Grants
National Institute of Minority Health and Health Disparities NIH Loan Repayment Program "Heterogeneity among U.S. Latinos: Onset of Mental Disorder, Comorbidity, and Service Use" This project aims to estimate differences in: 1) timing of disorder onset after migration to the US for depressive, anxiety, and substance use disorders; 2) prevalence of mental, behavioral and physical health comorbidities; and 3) formal and informal mental health service use, between four latent subgroups of US-residing Latina/os based on their acculturative experiences in the following outcomes. Dates: 7/1/2019 – 6/30/2021 Role: Principal Investigator
National Institute of Mental Health Brown School Training Program in Mental Health Services Research (2 T32 MH19960-23; PI: Cabassa) This grant establishes a pre- and post-doctoral training program to prepare researchers in the field of mental health services research. It will provide them with knowledge of the prevalence of mental disorders, the public and private sector service delivery system, sources of funding, and issues in the design, measurement and analysis of mental health services research. Dates: 7/1/2018 – 6/30/2020 Role: Postdoctoral Fellow
National Institute of Mental Health Psychiatric Epidemiology Training Program (5T32MH014592-39; PI: Zandi) This grant establishes a pre- and post-doctoral Training Program to train the next generation of psychiatric epidemiologists to address the need posed by the significant global burden of disease of mental disorders. Trainees will be able to conduct research to advance the field's understanding of the causes and consequences of mental disorders and improve mental health outcomes. Dates: 1/1/2017 – 6/30/2018 Role: Predoctoral Fellow
National Institute on Drug Abuse Drug Dependence Epidemiology Training Program (T32-DA007292; PI: Furr-Holden) This grant establishes a pre- and post-doctoral Training Program to increase the number and quality of drug dependence epidemiologists to advance the field beyond descriptive epidemiology to analytic epidemiology. It has a special focus on HIV and advanced statistical methods in the design and analysis of epidemiologic study data. Trainees will specialize in research that focuses on etiologic mechanisms, targeted interventions, and service delivery. Dates: 7/1/2014 – 6/30/2015 Role: Predoctoral Fellow
Professional Involvement
American Public Health Association
Georgia Public Health Association
Society for Prevention Research
Contact Dr. Kimberly Roth

---