Quality Printing, Quality Service
Presenting a research poster at an upcoming conference? Use these Mercer-branded templates to create your poster.
Submit your request
Poster PowerPoint Templates
These approved MUSM PowerPoint templates are available in the following sizes only: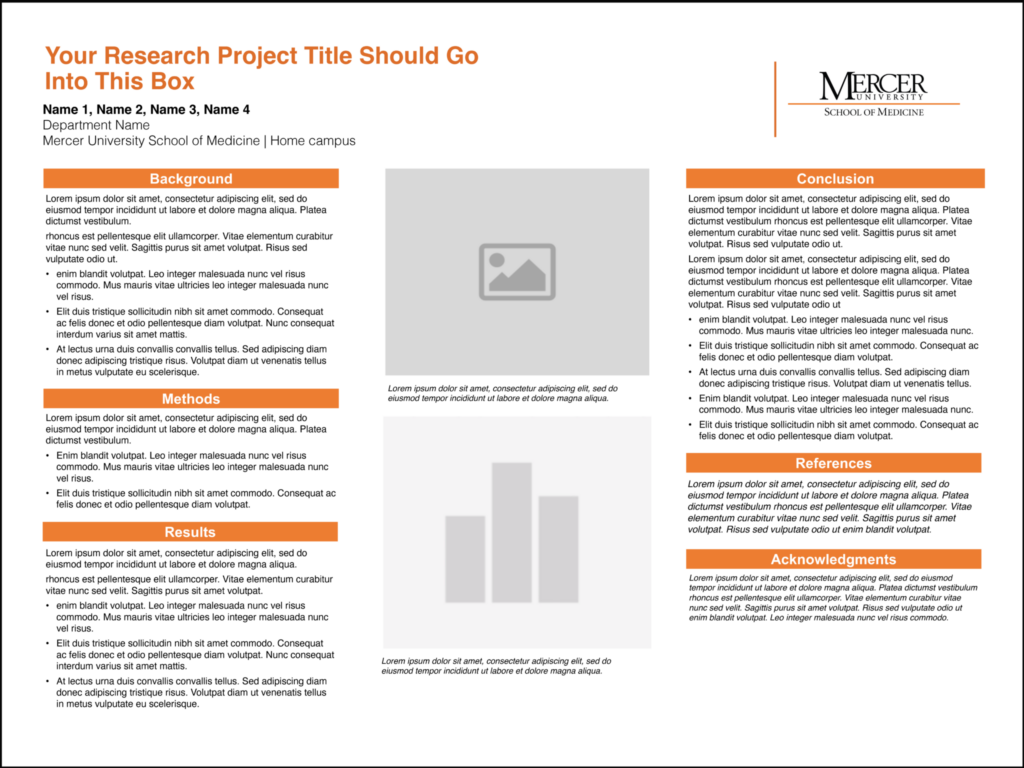 If a different size is required than what is available here, please contact the Office of Marketing and Communications for an adjusted template. Due to the size of our printer, the largest paper width we can print on is 44 inches. One dimension of your poster must be 44 inches or less. Please consider this restriction as you plan your poster presentation.
Poster Design Tips
What makes a good poster? A poster that communicates information clearly and quickly is generally the most effective. Use these design tips to help you create a clean, easy-to-read poster for your next event.
Plan your poster in three or four columns. It will help keep your poster organized and easy for your reader to follow.
Use a title that is short and draws interest.
Write copy that is clear and to the point. Using bullets, numbering, and sub-heads will help break up long text.
Keep your layout clean and with lots of white space.
Choose easy-to read fonts like Helvetica, Arial, Calibri, Myriad.
Avoid using color backgrounds and gradients.
Resist the temptation to make your poster bigger than necessary just to fill a given size. Remember that less is more.
Poster Printing Service
Because we are not a full-service print shop with dedicated staff, the Office of Marketing and Communications currently offers this free poster printing service only to current Mercer School of Medicine students and employees. We will use this directory to verify your affiliation with MUSM.
Please follow these guidelines to have your poster printed:
Submit your file in PowerPoint or PDF format.
Allow for a two week turn-around time.
Use a Mercer-branded template and make sure your file is of adequate resolution to make a quality print.
Double-check for errors and typos before you submit your file. You will be charged for a re-print if you find a mistake after it's been printed. Re-prints cost $5.50 per square foot of poster and will not be printed until the payment is made, in full, to the Office of Communications
Submit your poster printing request here.
 At this time, the poster printing service for non-MUSM students, faculty, staff, and residents has been discontinued.
 If you have questions, contact musm-poster-print@mercer.edu.